As an online entrepreneur, you put so much effort into building your business. So, wouldn't it be fair for you to know the most popular referral sources for your business?
Getting to know more about the referral sources or the profitable platforms for your business, you can target those sources more effectively leading to better ROI for your business.
So, if you are not aware which online marketing campaign is driving maximum business to your website, you are at a great loss.
Well, you can keep tabs on referral sources inside your Google Analytics, but it is barely sufficient.
Actually, you need an advanced tracking system that keeps you abreast about each and every aspect of marketing campaigns including their traffic numbers. It enables you to pick out the best traffic sources and target them effectively.
This is where UTM (Urchin Tracking Module) Parameters comes into the picture. It helps you to track and measure the effectiveness of your digital marketing campaigns.
With UTM Parameters you get to know the ROI of your digital marketing campaigns. Most importantly, UTM Parameters help to tag your URLs.
So, before knowing more about what are UTM Parameters and How to Track UTM Parameters in Google Analytics, let us first get to know what URL Tagging is?
What is URL Tagging?
URL Tagging allows you to add additional information to the URLs that you promote. You can then use analytics software to interpret the traffic information on your website.
By tagging your URLs, you can analyze your online marketing activities in a structured way.
What are UTM Parameters?
UTM Parameters are the standard parameters which are supported by analytics and marketing software like Google Analytics, Hubspot, KISSmetrics, etc.
There is a total of 5 UTM Parameters that can be added to a URL.
They are:
Utm_source
Utm_medium
Utm_term
Utm_content
Utm_campaign
However, it not mandatory to tag your URLs with all these parameters.
A URL which includes all the UTM parameters will look as shown below:
https://www.earningguys.com/?utm_source=my-trafficsource&utm_medium=my-medium&utm_term=my-term&utm_content=my-content&utm_campaign=my-campaign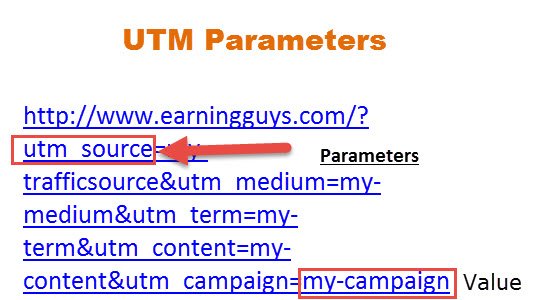 As you can see a "?" follows your complete URL. Each UTM Parameter is separated by an ampersand "&." It should be noted that the UTM Parameters can be included in a URL in any order.
So, you can use as many UTM Parameters as you want. You can use one or a combination of these UTM Parameters or even all the UTM Parameters to be very specific.
1. Source (utm_source)
The source (utm_source) UTM Parameter is used to identify the website or app that sends visitors to your site.
For example, if you are posting a link on Facebook, the source should be tagged as "Facebook." For ad campaign on Twitter, you should use "Twitter" as the source.
2. Medium (utm_medium)
The Medium (utm_medium) UTM Parameter is used to identify the kind of marketing medium where you have placed your link.
For example, if you have placed the link to a social media site such as Facebook or Twitter then you should use utm_medium =social
Some of the common medium tags are as follows:
Banner (it is used for banner ads)
Email (when you have posted links inside email newsletters)
Social (when you have posted links to social media sites)
Offline (used for offline promotion)
CPC (for cost per click or pay per click campaigns)
3. Campaign (utm_campaign)
The Campaign (utm_campaign) UTM Parameter enables you to define what you are promoting or even the way you are promoting your campaign.
For example, if you are promoting special offers during the Christmas period for your online store, you can use the utm_campaign tag such as Christmas-Offer.
However, you should be careful while using the Campaign UTM Parameter. It should ideally contain only campaign information.
For example, just have a look at this URL tagging with Campaign UTM Parameter:
https://www.earningguys.com/?utm_campaign=chirstmas-offer-email-newsletter-25per-off-24-dec-2015
It is not the ideal way to tag your URL with UTM Parameter:
Instead, the URL should be tagged as follows:
https://www.earningguys.com/?utm_source=store-customers&utm_medium=email&utm_content=25per-off-24-dec-2016&utm_campaign=chirstmas-offer
So, the campaign is a reusable term.
In the above case, you should use the campaign parameter as
utm_campaign=Christmas-Offer instead of utm_campaign=Christmas-Offer-2016.
Other UTM tags should be used to identify the year and promotion details.
It will enable you to track the performance of the Christmas offer over the years with a single tag.
4. Term (utm_term)
The Term (utm_term) UTM Parameter is used to track your keywords during a paid AdWords campaign. Plus, you can also use this UTM Parameter to identify different aspects in your display ad campaigns.
So, if you are using ad networks, then you should always use the term tag to target ads based on keywords. It helps Google Analytics to capture all keyword data automatically.
5. Content (utm_content)
The Content (utm_content) UTM Parameter is used to identify a link precisely. For example, you can use the utm_content parameter when you have to run an A/B test.
It helps to pass the details of your ad. It can also be used to differentiate between the links that point to the same URL.
So, UTM Parameters are helpful in finding the URLs which are most effective in gaining visitors for your content.
By using Google's URL Builder, you can systematically add UTM Parameters to your URLs.
It comes as a form inside the Google Analytics Help Center. You need to complete the form for setting up the URLs with UTM Parameters.
UTM Tagging Strategy
If you want your analytics data to be easily comprehended, you need to define and document a UTM tagging strategy as early as possible. It is necessary to avoid bad UTM tagging practices.
Here are certain important points which will help you to set up your UTM Parameters.
You should not tag URLs within your website. If the internal URLs are tagged, the UTM data is overwritten. It results in the loss of attribution data of your marketing campaigns. It is also applicable for tagging URLs inside the email newsletter.
Be consistent with your UTM parameter values. It helps to consolidate your marketing analysis.
For example, the Source UTM Parameter can be attributed to Facebook in several ways:
Utm_source=Facebook
utm_source=facebook
utm_source=FaceBook
utm_source=FB
In these cases, the analytics software will regard them as separate entities.
Segment organic and paid traffic
It is important to segment organic and paid traffic. In paid marketing, it becomes important to know your ROI on paid ads.
For example, if you are running paid social media marketing, use utm_medium=social-paid for paid traffic and utm_medium=social for identifying organic traffic.
Other UTM Parameters can also be used for identifying paid traffic such as utm_campaign.
Ideally, you should pick one approach and stick with it.
The UTM Parameter Setup
Setting up the UTM Parameter is pretty easy.
The UTM tags can be setup by using Google Campaign URL Builder. It comes handy for doing a small campaign.
It allows you to add campaign parameters to URLs so that you can track Custom Campaigns in Google Analytics.
The Campaign URL Builder provides a form where you need to fill out the fields. The fields marked with * are compulsory. Once you complete the form, the full campaign URL will be generated for you.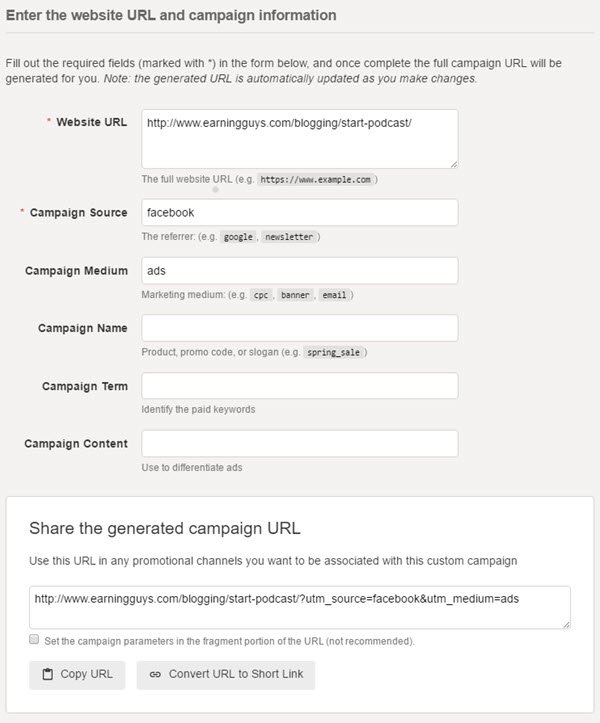 The generated URL is automatically updated when you make changes. The URL can be used in any promotional channels.
You have to keep in mind that UTM Parameters are case sensitive, so they need to be entered the same each time. If you do not follow this guideline, Google will flag it as different channels.
Using a spreadsheet will help you to paste directly from it into the UTM Parameters that you are creating. It lets you track multiple campaigns, sources, and mediums.
Most of the time it happens that with all the UTM Parameters, the generated URL becomes too long to tweet. In that case, you can use any URL shortening service to trim it down.
Besides using Campaign URL Builder, you can also use the Effin amazing UTM Builder Chrome extension for creating UTMs. The most used terms are saved as Presets and it even auto-populates the URL.
UTM Parameter Use Cases
UTMs can help in analyzing the social media referral traffic.
For example, Twitter gives you four options for promoting your links. You can post a regular tweet, a promoted tweet, website field, and profile description.
Using UTM Parameters, all these link clicks can be tracked separately.
So, for Twitter promotion tracking, the UTM Parameter strings can take the form:
?utm_source=twitter&utm_medium=profile&utm_campaign=blog
?utm_source=twitter&utm_medium=directtweet&utm_campaign=email
?utm_source=twitter&utm_medium=promoted&utm_campaign=paidtweet
Using UTM Parameters, you get an enriching Google Analytics Report showing the details of the performance of the social media shares.
Likewise, you can even test the clicks from your email newsletters. You can also implement UTM Parameters inside the email signature for tracking visitors to your site.
Plus, you can implement UTM Parameters for knowing which of your banner ads perform the best. With UTMs, you can find out which external website brings in the most traffic.
You can even find out which banner placement, design, size, color and banner types are most effective. When you tag banner ads, you can easily find out which one is more effective.
All the valuable piece of information relating to your campaigns can be found out inside Google Analytics.
Inside your Google Analytics account go to Traffic Sources > Sources > Campaigns and you will find report according to UTM parameters used.
Conclusion
So, UTM Parameters help you to provide great insights about your traffic. You get to know your audience's behavioral data and then can amend proper changes to double your sales. You can use free Google UTM Builder and remember to follow the best practices for building UTM Parameters.